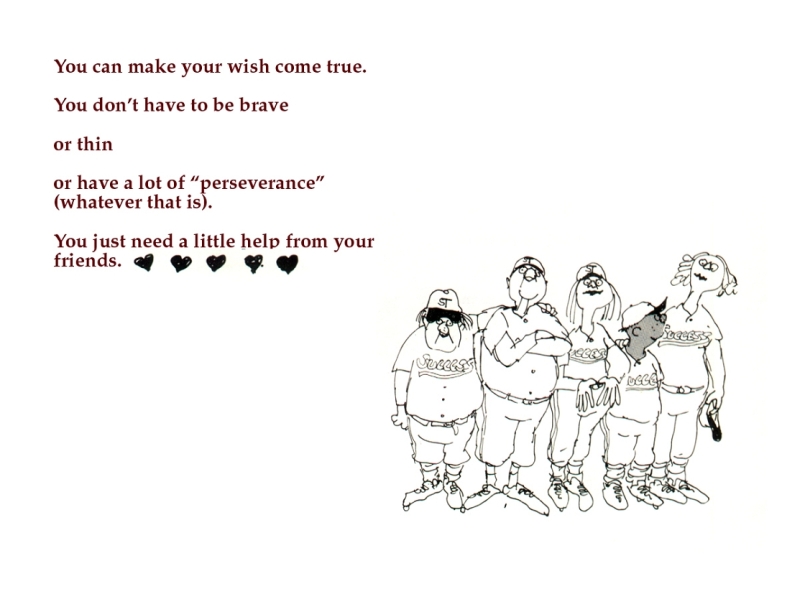 How Does the Online Idea Party Work?
You have a dream or a wish, and an obstacle to getting there. (If you don't think you know your wish, work through my kick-starter and read this post. To learn why you must put logic aside to find your dream, read the following.)
The online Idea Party is here to help you – and the other fellow party goers – with your wishes and obstacles.
Voices from Success Teams and Idea Parties:
Having a team to report to and hearing what everybody did each week is very exciting. It's kept me moving all year. In the past I made some good starts on my own, but found, every time, when the energy ran out, I ran out. Now it doesn't run out.
Jade G.
Children's Playroom Therapist, New York Hospital
I would do a painting a year, a sketch a year. If it was only me I know I would never do it. Having to tell you makes all the difference. It's crazy why I didn't do this years ago, it's so easy all of a sudden.
Caroline R. Personnel Executive, Macy's Dept Store
Post Your Wish and Your Obstacle Here!
And help your team mates out when you can. Use the Reply link to help, the form below the comments to add your own Wish and Obstacle.
(Your first comment below has to be approved, so it may not display instantly depending on the time of the day. Once your email address is approved you can post instantly. If you want your own profile photo to show up beside your comments, instead of the cute little design, upload your photo on Gravatar.com and give them an hour or so to make it happen.)