The Short 'About'
"I believe we each have a genius inside us, our Original Vision, and we've had it since birth. Our culture tends to discourage that vision, but it remains within us, waiting to be fulfilled. I've devoted the last 40 years of my life to saving that Genius, not from its imperfections or a bad self image, but from Isolation and Inner Resistance."
"I know what I'm doing here: I'm here to get you to remember what you love, and to find practical ways for you to do it. How do I know what I'm doing here? Well, I've figured out what drive really is, and where it comes from, and how unique it is to each one of us. And I've seen over and over how it always answers that age-old question: What am I supposed to be doing on this planet? What will really satisfy and continue to interest me?"
The Long 'About'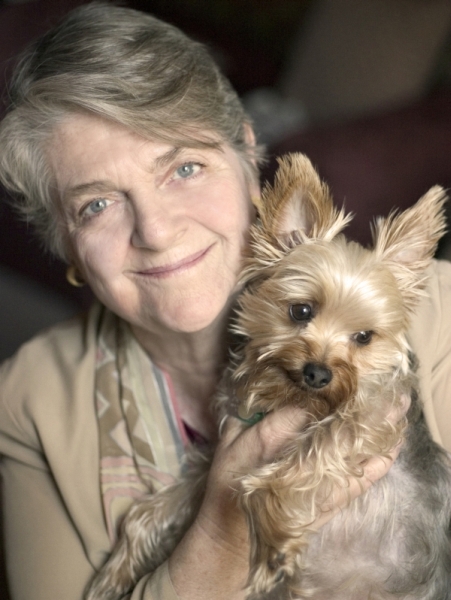 Barbara Sher is a business owner, career counselor and best-selling author of six books, each of which provides a unique step-by-step method to uncover talent, pinpoint goals and make dreams come true.
She has been called the "godmother of life coaching". Barbara has presented seminars and workshops around the world to universities, professional organizations, Fortune 100 corporations and federal and state government agencies. She also consults with clients in her New York office.
In 1972 Sher invented Success Teams—small groups in which members dedicate their efforts to helping each other find and achieve their goals. Today, Sher's Success Teams are operating in locations across the globe. Her first book, Wishcraft: How to Get What You Really Want, has become a classic in its field and has sold over one million copies. It is used as a text in universities throughout the U.S. and a handbook for career counselors and coaches. Her second book, Teamworks: Building Support Groups That Guarantee Success, is a handbook for social workers, career counselors and teachers.
After consulting with thousands of people at workshops and in private sessions, Sher discovered that many of them thought they had no idea what they really wanted. She began hosting problem-solving meetings and developing dozens of powerful techniques that freed people from "goal paralysis." Her innovative, sensible and respectful techniques for overcoming resistance have been widely praised by psychologists and career counselors, and made her third book, I Could Do Anything if I Only Knew What It Was, a New York Times best-seller.
Barbara's fourth book, Live the Life You Love, is a ten-lesson course that teaches, in an appealing and accessible format, the nuts-and-bolts skills needed to identify the reader's own motivational style, find his or her dreams and achieve them. It won the top award for a motivational book by the Books for a Better Life Commission, a consortium of all major publishers.
In her fifth book, Barbara took a fresh approach to creating a great life after age forty. The book, It's Only Too Late If You Don't Start Now: How to Create Your Second Life At Any Age, found such favor with people of all ages that it was made into an Emmy-nominated public television pledge special of the same name. The show became so popular that she was invited to do two more public television pledge specials—"Live the Life You Love/Map to Success" and "Barbara Sher's Idea Party"—which are also breaking fundraising records at public television stations in dozens of cities around the U.S. during every pledge drive. Viewers call her "a standup comic with a message."
Barbara's sixth book, Barbara Sher's Idea Book, (rapidly moving into best-seller status as well) is the first in her upcoming series called How To Do What You Love Without Starving To Death. New books in this series are scheduled to be issued soon.
In the book Refuse To Chose: A Revolutionary Program For Doing Everything That You Love Barbara identifies someone she calls The Scanner–someone who frequently has a multiplicity of interests, but finds it hard to create a successful life he or she loves because their passions and abilities are taking them in so many different directions. Contrary to popular wisdom, Sher tells Scanners that theirs is a unique ability, not a liability. She also states that they must do everything they love, not zero in on one pursuit at the expense of all others. With dozens of powerful techniques Sher has developed to free people from "goal paralysis," readers will stop thinking of themselves as dabblers or dilettantes, and find innovative ways to live lives of variety, challenge, and joy.
Barbara spends most of the year giving her workshops at locations around the world or in her New York City apartment writing her next book. In the spring and fall she's at her second home in a small village in Central Turkey where she teaches e-commerce to village weavers or in the countryside of southern France running retreats.
Other Programs and Highlights
Sher has appeared on local and national radio and television shows, including The Oprah Winfrey Show, CNN, the Today Show, 60 Minutes and Good Morning America, and has been featured in The New York Times, The Wall Street Journal, as the Life Coach columnist for Real Simple Magazine and many other newspapers and magazines. Barbara is featured as a guest writer in the 2011 November issue of O Magazine, "O's 4-Step Guide to Discovering Who You're Meant to Be," steps 2 and 4.
For Barbara´s books, audios and more go to GeniusPress Unlimited.