Barbara Sher's Dare to Soar Telesummit
Celebrating 8 Life-Changing New Books and Courses
Free Workshops All Day
Saturday, February 9, 2019
Phone Number: +1-712-775-7085 – Access Code: 880212#
Dial *6 to mute or unmute your phone
Please mute if you use a speakerphone or call from a noisy location
Phone Help for the Telesummit
We want to hear from you throughout this celebration, especially during our workshops. To make this work, we need a great telephone connection. We want to hear you clearly. And we want the least possible background noise from each caller, because there will be lots of us on the call.
Your Best Option: a Landline Phone or a Cell Phone with a Strong Signal
If you're in the U.S., there's a good chance you have a calling plan that lets you call area codes 712 and 641 (both in Iowa) for free. Yay! Use it.
If you don't have free long distance, or if you're outside the U.S., use your favorite internet search site to look for calling cards. Or ask at your local convenience store if they sell telephone calling cards.
It's not likely to cost more than US$15 from the U.S. or most other countries to attend all nine hours (540 minutes) of workshops and prize giveaways, if you purchase a card from someone other than a phone company. Phone companies charge a bit more.
A calling card gives you instructions for dialing and a PIN that identifies you as the holder of the prepaid card. If you purchase one online, you'll be able to download your PIN immediately or have it sent by email to you.
Your Next Best Option: Skype
Skype is a free app from Microsoft for your smart phone and a program you can install on your computer to make calls using your high-speed internet access or your smart phone's data plan.
If you have no daily or monthly data limits — this means you if you have cable internet or fiber optic internet or an unlimited cellular data plan — Skype is the best alternative to a good telephone connection.
The app or program is free, as are calls to other Skype users around the world, but you'll need to pay Skype for connecting you to the regular phone system somewhere in Iowa to complete the call.
US$15 of Skype Credit, purchased in advance, should be plenty for all nine hours (540 minutes) from most countries. Their rates vary depending on whether you're calling a landline or cell phone. You'll be calling a landline number, the less expensive sort.
Google Voice, a similar service available only in the U.S., will not connect you to our telesummit. Don't use it.
Using Skype will let you listen on your computer's speakers or a headset. But please note that when your speakers are on, your microphone must be muted. If you want to be heard by our workshop presenters when they invite questions or comments, use a headset or earbuds to listen. And if your microphone is built into your headset or earbuds, please make sure it's not rustling against your clothing.
Your Just-in-Case Option: Free VoIP from freeconferencing.com
VoIP stands for voice over internet protocol, or using your internet access to make a call. Skype is a VoIP service. This one is free. And a little less reliable, but not bad.
Just like Skype, you'll be using your internet connection, so if there are daily or monthly limits on how much data you can use, go get a calling card and use your phone.
To use VoIP, go to freeconferencing.com, dismiss any pop-up messages and click on the button that looks like this: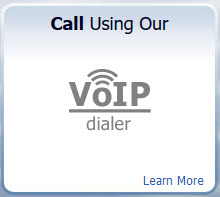 Instructions and a link to the dialer will open in a popup. Read, then click on the link, and you'll see this:
Fill in the phone number for our call, the access code for our call, and your name. If you've got a common name, please add something to further identify yourself.
Click on the green Place Call button, and you'll see this: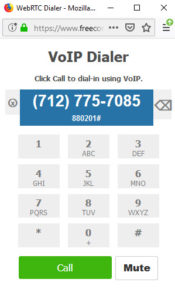 If you're asked to allow the use of your microphone, choose "Allow" or "Always Share." Otherwise you won't be able to talk to us. If you have multiple microphones, you'll also be asked to choose one to use.
All you need to do now is click on the green Call button. This will connect you and turn the Call button into a red End Call button for hanging up.
What Number to Call
Phone Number: +1-712-775-7085 – Access Code: 880212#
The number you'll be calling is +1-712-775-7085. For those not used to international calling, the + means dial whatever your phone company requires for an international call first, and the 1 means you're calling the U.S. If you're already in the U.S. or Canada, there's nothing extra to dial. You start with the 1.
If you use a service like Skype, where you choose a country before you dial, choose United States. You can then start with either the 1 or the 7.
Once the recorded message answers your call, dial our access code, 880212, and end by dialing #
If you're using Skype or a smart phone, you'll need to open the dial pad to dial this. The button for opening it looks like 10 buttons (1-9 and 0) on a telephone dial pad.
Whichever method you choose for calling, if this is your first time trying it, you can call in anytime before the telesummit to test it. Once you're connected, you'll hear dreadful music, unless someone else happens to be testing at the same time. But the music will be your sign that you did everything just right, and you're ready for the telesummit.
What to Do If No One's on the Call During the Telesummit Hours
Every once in a while, someone's call will get sent to some terrible dead end somewhere. If there's no one else on the call, and you're listening to the dreadful music, and our schedule says we should be up and running, hang up and call back in.
If there's still no one else on the call, it's possible we've had some huge problem with the call and our MC has asked everyone to switch to our backup number, so try calling it:
Backup Phone Number: +1-641-715-3655 – Access Code: 383622#
If there's still no one else on the call, please check the date and time. Then send an email to webmaster@barbarasher.com, and we'll do our best to help.
What to Do If You Get Cut Off from the Telesummit
Just call back in.
And just in case you're connected but not listening at the time, we'll disconnect everyone and ask them to call back in right after Barbara Sher's Idea Party, to comply with a teleconference service rule.
Please Mute Your Phone Before…
Speaking to anyone else in the room with you
Putting the call on speaker
Running water
Typing on your keyboard
Turning on your microwave oven
Entering a noisy location
Driving
If your phone has no Mute button, dial *6. You can unmute yourself by dialing *6 again.
If we need to mute you from our end, you'll hear a notice that we're doing it. You can unmute when your connection is quiet again by dialing *6.
(Did you notice the 6 button on your phone is also the M — for Mute — button?)