Still Wondering What You'll Do With Your Life?
Hitting your 40th, 50th, 60th or 70th birthday can be frightening. There is no question that things are different in midlife and beyond. But if you fear it's too late for your big dreams, you have some reading to do — because it's not. In fact, most dreams will become easier to achieve now.
This is our fifteenth Barbara Sher book club, a chance to read one of Barbara Sher's books, do all the exercises, and discuss them with book club members all over the world. For 16 weeks, as you read and work through this exciting and unusual book, you will share what you're learning about this new stage of your life with others who are having similar experiences. Fresh insights will come as others in your group share their experiences and you'll open a deeper understanding of how it all applies to you. The combination of exciting reading and the chance to meet regularly to discuss it will make this book club a wonderful experience.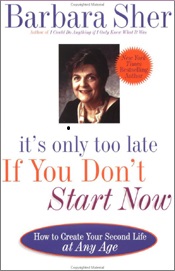 Sounds great, doesn't it? But where will you find the time?
That's the blessing of an online program: you'll discover the convenience of attending class whenever you want, in whatever you're wearing, with no travel time or traffic to contend with.
You'll experience this life-changing book in a new way, and make friends with fascinating men and women from all walks of life. Do the exercises when you have time, never rushing or hurrying.
But will you have the same kind of closeness as an in-person book club could give you? Hard to believe if you haven't done it, but the answer is yes — perhaps even more. Why? Because you can comment whether you're shy or outgoing. You can ask questions about anything you don't understand. You'll be able to help your new friends. You're going to love it.
Join us for this next book club, starting on June 27th. For sixteen weeks, we'll share Barbara Sher's guide to living a life you love after 40, It's Only Too Late If You Don't Start Now: How to Create Your Second Life at Any Age. Together, we'll read every word. We'll do all the exercises. And we'll share it with each other on password-protected, members-only web pages.
Your Guide: Tammy Garver, from my very first Scanner Retreat in Corfu
Tammy Garver has been immersed in Barbara's work and using her methods and philosophy for more than 3 decades! A true Scanner, Tammy is honored to include teacher, writer, artist, consultant, certified life coach, practicing helping professional and holistic thinker on her list of loves and pursuits. Tammy is an alumna of Barbara's first Write Speak Retreat and used ideas from Refuse to Choose to raise money to attend the first Scanner Retreat in 2006 where she finally "met her tribe" in Corfu. Tammy's education includes degrees in Human Services, Family and Individual Studies, Early Childhood and a special concentration in Teaching Adult Learners. Tammy loves having fun, robust conversations and discovering new things with Scanners and Divers alike.
Here's what people have said about Tammy:
"Tammy is a great person to brainstorm with! She always has loads of ideas and she's very supportive." —D.J.
I have collaborated with Tammy for a couple of years now in a professional setting, and I am always amazed at her vast knowledge. She is very passionate about the helping others and it shows in her desire and willingness to mentor, coach, and lead others in so many ways. Tammy makes learning and exploring new ideas fun and rewarding. —Rachel
"Having a knowledgable, supportive guide for the journey enriches the experience immeasurably. Tammy is a natural: she seems to have an intuitive feel for when the group as a whole needs a nudge, when individuals need to be encouraged, and when it's time to really dig into someone's response(s) and make it clear they've been heard—and perhaps, most importantly, that they're not alone." —Marian
The It's Only Too Late If You Don't Start Now Book Club
We begin on Thursday, June 27, 2019. If you don't sign up by 11:55 pm NY time on the 26th, it's likely to be a year or two before your next opportunity. We'll read part of the book and do the exercises in it every week for sixteen weeks. We'll finish up on Wednesday, October 16, 2019.
We'll meet here on this website, discussing in written form each chapter and each exercise. You can choose how often to check in each week, how much you want to participate and when.
We expect a lot of members, but everyone will be assigned to a discussion group of perfect size. If you bring in your friends to join at the same time you can be in the same group. (But don't wait until the last minute, as the last group could be smaller or larger than the others.)
You will need a copy of It's Only Too Late If You Don't Start Now to work from. Choose the hard cover, the paperback or the Kindle edition, whatever suits your reading style. You'll receive an email (optional) each Thursday with a reminder of the week's assignments, or you can look them up in your Member Profile on this site. To share in the comments left by the other members of your book club group, you can subscribe to be emailed each comment as it appears. Or, you can choose to visit each week's pages and read them all at once.
---
Register by June 26th
No one admitted after 11:55 pm June 26th (NY time)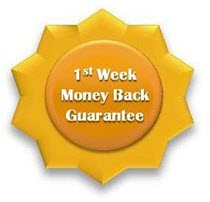 Money back guarantee through August 3, 2019
$77 for all 16 weeks
Same price as our first book club 5 years ago
Contact webmaster@barbarasclub.com if you encounter any problems with payment or if you don't receive two emails from us within an hour after paying.
---
It's Only Too Late If You Don't Start Now: How to Create Your Second Life at Any Age
Is this the right book club for you?
YES if you're a coach or want to be one. Barbara Sher knows more than almost anyone in the world about living a life you love after 40. You cannot get the tools and perspectives in this book anywhere else.
YES if you're approaching or past your 40th birthday and trying to figure out how to craft a life that you love or still looking forward to going after more of your dreams.
YES if you got distracted from actually finishing It's Only Too Late If You Don't Start Now or putting into practice what you learned the first time you read it.
YES if you are drawn to help others who are older than you and facing different challenges.
YES if you get more out of exercises when you do them with other people.
YES if you are isolated and don't know a lot of other over-40 dreamers like you.
NO if you are still hoping to have kids or more kids or take your current career to greater heights.
NO if you believe a positive attitude is the best way to real results. (If you ever went to school, held down a job or raised a child, you know the reality: you did it with whatever attitude you woke up with each day.)
What can you expect to gain from the It's Only Too Late If You Don't Start Now book club? Well, here are what members of our I Could Do Anything and Refuse to Choose Book Clubs said:
This has really been an eye-opening week for me. I hadn't realized how engrained many of these messages were inside of me. And how many of them still play out to this day….It's tough work, but I feel so much more motivated doing this as a group than being a lone, unsupported wolf. I love reading what all of you have to share. —Angela
"I never would have completed the exercises without this book club!" —Beverley Anne
I'm so glad the book club was started, because I wouldn't have done the exercises either & I find they are super helpful. The book stand alone is amazing but I think the transformation is in the exercises and doing them in your head when you are reading & calling it done like I do with soooo many books — doesn't really cut it. —Aeryn
As a first step (also prompted by this book club – I must add), I have four events planned per month at my house for the next six months. The flyer went out two weeks ago with a reminder email a couple of days ago….Thanks Barbara for writing this book. I am in ACTION! —Ruth
Hi…i am wow'ed. I wish I could take time off and do nothing but CATCH UP…darn it! I now want to read and participate in this terrific club and its members 24-7!!!!!! —Maria-Franziska
I am a "little behind" the rest of the group. But – it's for a good reason. It has – OMG wow …. amazing … yowsa … have I been having some epiphanies! I am literally having some Good weeping moments here. I have done several (as I'm sure many of the group has) "self-help"/introspective programs. Nothing touches this. —Pat
"Thank goodness for this book club. I'm inspired by the stories and visions of others here to find out and do something about it." —Christine
This course is proving invaluable in not only making me appreciate how blessed I am but also how much I can do to refine and further enhance my life – and connecting with this group is wonderful <3 … THANK YOU for creating this book club. —Stephanie
Many of the things I've written here I've never told anyone else in full, as the context wasn't available (as in therapy, other workshops, or even in a journal). The questions by Barbara Sher are so well formed that it pulls our insights out and enables us to more see the whole and make more sense of. Loving it too! —Patricia
This is your chance. The doors close at 11:55 pm EDT on June 26th and the Book Club begins on June 27th. Tammy's ready to introduce you to a lot of great people and take you through the entire book. And the earliest we can possibly offer this again is the end of next year. Sign up now and start changing your life. You owe your gifts to the rest of us. We owe you the support you need to find those gifts and do what you were born to do next.
---
Register by June 26th
No one admitted after 11:55 pm June 26th (NY time)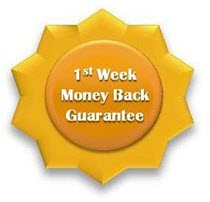 Money back guarantee through August 3, 2019
$77 for all 16 weeks
Same price as our first book club 5 years ago
Contact webmaster@barbarasclub.com if you encounter any problems with payment or if you don't receive two emails within an hour after paying.
---