Imagine a Barbara Sher book club at your local coffee shop. Over coffee or tea and a scone, you meet weekly to discuss what you're reading in one of her books. You share what you're learning through the exercises about who you really are. You get more out of the book as the others share their insights. And you've got the accountability that helps you make the time each week to read some more of the book and really work through the exercises.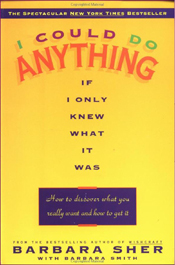 Sounds great, doesn't it?
Now imagine that, for the same cost, you can attend in your yoga clothes or pajamas. At whatever time and day suits you. And the other members of your book club are not just your neighbors. They live in New York City or Taos, in London or Montreal, in Perth or Hong Kong or Frankfurt or Stockholm. They live on a farm in Idaho, in a Lake District cottage in England, or next door to Disney World.
Well, c'mon in, because that's what we're creating here. For sixteen weeks, we'll share Barbara Sher's New York Times Bestseller, I Could Do Anything If I Only Knew What It Was: How to Discover What You Really Want and How to Get It. We'll read every word. We'll do all but one of the exercises. (It requires applying for a job.) And we'll share it with each other on password-protected, members-only web pages.
Hurry! Registration is open only through June 20th.
Your Guide: Patty Newbold, Sher Success Teams Director
Patty has been a Success Teams Leader since 2004 and director of the Sher Success Teams program for the past six years. She helped Barbara launch her WriteSpeak program, worked side-by-side with her at three WriteSpeak retreats, and coaches current WriteSpeak Online members. If you're a member of Hanging Out, you know her as Webmaster, the MIT alum who figures out all the techie stuff Barbara hates being bothered with. She's a full-blooded Scanner who's had a great Scanner career and lots of hobbies, but thanks to many of her MIT pals, she really gets Divers, too.
Here's what people said about Patty's role in our earlier I Could Do Anything and Refuse to Choose book clubs:
By the way, Patty…I want to give you the highest praise I know…you so often sound so much like Barbara! It makes me get a huge smile on my face and then I imagine Barbara getting a huge smile on her face when she reads what you have written and then that makes me have an even more huge smile on my face. —LisaMancelyn
"Welcome back, Patty:) I've missed knowing you're out there, — processing, responding, and CARING so much about all of us. —Amy M."
I also want to say that with each of these exercises that I work on being honest with myself and devoting time, energy and thought I can feel myself understanding (finally!), growing emotionally, and changing inside….Thanks a million to Barbara for designing them, to Patty for her support and to everyone in the Club for reading, or just for being there. —Alicia
The I Could Do Anything Book Club
We begin on Thursday, June 21, 2018.
If you don't sign up by the night before, it's likely to be a year or two before your next opportunity.
We'll read part of the book and do the exercises in it every week for sixteen weeks. We'll finish up on Wednesday, October 10, 2018.
We'll meet here on this website, discussing each exercise and each chapter in the comments on its own web page. No phone calls or webinars to fit into your busy schedule. Read what the rest of the club has to say and write about your experiences any time during each week.
You will need to purchase or borrow a copy of I Could Do Anything, but they are plentiful and inexpensive. Choose the hard cover, the paperback, or the Kindle edition, whatever suits your reading style.
You will get an email every Thursday with a reminder of the week's assignments, or you can find them in your Member Profile on this website. You can subscribe to be emailed each comment or you can visit the week's pages to read them all at once.
"As to 'How do these book clubs work?' the answer for me has been 'Better than just reading on my own.'…This has ended up being a gift to myself that keeps on giving." —Lyndon
As with the first three I Could Do Anything book clubs, we expect a lot of members. We'll assign you to a group of up to four dozen members. If you want to join with a friend, do it at the same time to be part of the same group.
---
Register by June 20th
No one admitted after 11:55 pm June 20th (NY time)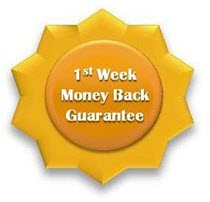 Money back guarantee through June 27, 2017
$77 for all 16 weeks
Contact webmaster@barbarasclub.com if you encounter any problems with payment or if you don't receive two emails within an hour after paying.
---
I Could Do Anything If I Only Knew What It Was: How to Discover What You Really Want and How to Get It
Is this the right book club for you?
YES if you're a coach or want to be one. This is the book I used as the main text for my Coach Training course. Many of the exercises I use in my workshops and retreats come from I Could Do Anything.
YES if you're still trying to figure out what you ought to be doing with your life.
YES if you drag your feet or run into brick walls trying to do what you really want to be doing.
YES if you start projects but don't finish them and want some helpful, friendly accountability as you do the work to discover what you really want and how to get it.
YES if you get more out of exercises when you do them with other people.
YES if you are isolated and don't know a lot of people who have figured out what they love doing.
NO if you believe you can create your own reality just by focusing your thinking on your goal. (Try that on a busy highway!)
NO if you believe a positive attitude is the best way to real results. (If you ever went to school, held down a job, or raised a child for three years or more, you surely did it with whatever attitude you woke up with each day.)
What can you expect to gain from I Could Do Anything? Well, here are what other readers have said:
It's an absolutely wonderful book, which saved me from a dull and unfulfilling but high-paying career. I'm now in one that I ADORE and am great at. Well worth reading!
I read all the books with the tests, the checklists, the affirmations and the goal making, etc… and they got me nowhere. This book finally got me somewhere.
"This book, overall, is head and shoulders above the rest, and anyone will benefit from reading it — slowly and carefully."
Barbara, All I can say is thank you, thank you, thank you. I am slightly overwhelmed with your book, "I Could Do Anything…" Finally, I am able to see self-respect just beginning to replace shame, and satisfaction beginning to replace feelings of worthlessness…Thanks for this feeling of complete emotional support. It's really remarkable what that does to a person.
There's also a chapter for you if you're afraid to take risks; if you're afraid of succeeding and leaving your loved ones behind; if you want too many different things; if you're succeeding spectacularly at something you don't really want; if you feel that what you really want is trivial or unworthy; if you've just been through a big life change and don't know what to do next; if you had a dream but it's become unattainable; if you resist doing anything ordinary or mundane; and if you're trying hard to love something you don't really want.
"Stands out from the sea of self-help baloney books"
Barbara Sher's book will help you sort it all out. She'll help you figure out what's at the root of these feelings and how to understand and handle them. Through a series of exercises, explanations and examples she guides you to discover just what it is that you truly want to do. And then she shows you how to get to do what you want.
Getting what you want is SCARY — you have to face that fear or all you will do is stagnate! Sher recognizes this and sets forth different introspective exercises to help the reader figure out what it is they really want and are not admitting to themself.
This book is about finding out what you want to do with your life not what job you want to do…the main point of the book is that you can find what will truly fulfill you in life.
Best Book I Ever Read! This book covered every question I could think of about life transition like: (1) What do I really love and what do I want to do with the rest of my life? (2) What's keeping me from moving forward in my life? (3) What is resistance and where does it come from? (4) What part of me is my real-self and why has it been in hiding so long? (5) Why is action better than analysis when I'm in a low mood? (6) How to move beyond a hurtful past. (7) How to overcome narcissistic tendencies. (8) How to claim and create a new life for myself.
"Sher will pick you up off your butt and get you moving. She's included enough self-analytical exercises in here to save you hundreds of dollars in therapy."
Whether you're looking to make improvements in your job or personal life, Sher will teach you how to determine what your goals are, and how to successfully reach them–even if right now the only thing you know is that you're vaguely to very unhappy and haven't the foggiest idea what to do with yourself.
This is your chance. The doors close on June 20th and the Book Club begins on June 21st. Patty's ready to introduce you to a lot of great people and take you through the entire book. And the earliest we can possibly offer this again is the fall of 2019. Sign up now and start changing your life. You owe your gifts to the rest of us. We owe you the support you need to find those gifts and do what you were born to do.
---
Register by June 20th
No one admitted after 11:55 pm June 20th (NY time)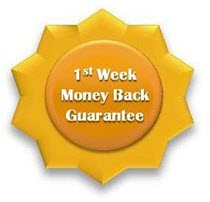 Money back guarantee through June 27, 2018
$77 for all 16 weeks
Contact webmaster@barbarasclub.com if you encounter any problems with payment or if you don't receive two emails within an hour after paying.
---