"I've got about 4 copies of WISHCRAFT. It has been very popular with all that I've suggested it to. I have now included it in PARACHUTE."

-Richard Nelson Bolles, Author of WHAT COLOR IS YOUR PARACHUTE?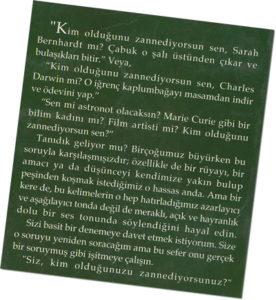 Sihirli Değnek: Gerçekci Ol İmkansızı Iste
Barbara Sher with Annie Gottlieb
"Kim olduğunu zannediyorsun sen, Sarah Bernhardt mi? Çabuk o şah üstünden çıkar ve bulasiklari bitir." Veya,
"Kim olduğunu zannediyorsun sen, Charles Darwin mi? O iğrenç kaplumbagayi masamdan indir ve ödevini yap."
"Sen me astronot olacaksın? Marie Curie gibi bir bilim kadini mi? Film artisti mi? Kim olduğunu zannediyorsun sen?"
Tanıdık geliyor mu? Birçoğumuz büyürken bu soruyla karsilasmisizdir; özellikle de bir rüyayi, bir amaci ya da düsünçeyi kendimize yakın bulup peşinden koşmak istediğimiz o hassas anda. Ama bir kere de, bu kelimelerin o hep hatırladığımız azarlayıcı ve aşağılayıcı tonda değil de meraklı, açık ve hayranlık dolu bir ses tonunda söylendiğini hayal edin.
Sizi basit bir denemeye davet etmek istiyorum. Size o soruyu yeniden soracagim ama bu sefer onu gerçek bir soruymu gibi istemeye çalişın.
"Siz, kim olduğunu sanıyorsun?"
1 downloadable PDF file
Price: $9.00